Awards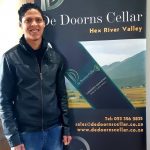 WINETECH STUDY GROUPS - TOP ACHIEVERS FOR 2018
The Winetech study groups make a considerable contribution in the transfer of knowledge to cellar assistants in the South African wine industry. The Winetech study groups are endorsed by industry organisations such as the Cape Winemakers Guild and Shiraz SA and aim to address development and the transfer of knowledge in a holistic and practical manner through closer collaboration with cellars. Read More...
BREEDE VALLEY REGIONAL WINNER NAMED IN THE PRESTIGE AGRI AWARDS 2018
The Department of Agriculture has partnered with supermarket giant Shoprite to sponsor the awards. The competition aims to celebrate excellence among those working in the Provence's agricultural industry, across 11 categories and in 16 districts. The awards were originally started in 2002 by the Hex River Valley Association. Since then, over 10 000 people have participated. The winners for the Breede Valley Distict is as follows...
VITIS VINIFERA AWARDS
A wine competition driven by the consumer
The Vitis Vinifera Awards recognise quality wines and grape derived spirits available to the majority of consumers. Most other competitions focus on aspirational products in the ultra-premium segment of the market, perpetuating the perception that good products are out of reach of the average consumer. This in turn leads to the misconception that appreciating wine and grape based spirits is an elitist matter, reserved for a small group of connoisseurs who are able to describe subtle flavours in obscure language. Click to read more...
We are very proud to announce that Leipzig Winery's 2017 Master Blend is one of the Top 5 winners for the 2018 Perold/ Absa Cape Blend competition!
It is the youngest wine out of the Top 5. This wine combines the best flavours of hand-picked Pinotage, Merlot, Cabernet Sauvignon, Cabernet Franc & Petit Verdot.
This fusion creates cherry notes coupled with spice on the nose with a lingering, fruity aftertaste. Raspberries and Strawberry flavours abound on the palate of the wine. Please click to read more...
YOUNG WINE SHOW
We would like to congratulate our cellars for doing so well and making us very proud at the Regional Breedekloof/Worcester Young Wine Show. #ValleyOfChampions
THE GOLD WINE AWARDS
The Gold Wine Awards is a consumer judged competition that endeavours to put a seal of excellence on wines delivering quality
at a reasonable price, thereby guiding the wine buying public. The double blind tasting was audited by Theron du Plessis Chartered & Professional Accountants (SA) of Somerset West. The food and drinks sector is experiencing high inflation, making a value driven competition
more valuable to the wine buying public. The Gold Wine Awards assists wine lovers, making it easier to make more informed wine buying choices. This year entries showed good growth, which is a sure indicator of the importance that this competition is garnering in the
industry. South Africa, as a global rising star in the value for money wine bracket, should not be underestimated, and as usual the best wineries always seem to come through. Consumers who enjoy a wine bargain are in good cheer!
Read the 2018 Gold Wine Awards Press Release (PDF)
Leipzig Winery Leipzig Pinot Gris 2018 (PDF)
WINE MAGAZINE SIGNATURE RED BLEND
REPORT 2018
The third annual Signature Red Blend Report was recently released by Winemag.co.za – 30 wines out of a total of 68 entries received rating 90 points or higher on the 100-point quality scale.
Leipzig Master 2017 Blend scored 91/100
The Master Blend consists of the following red wines: Pinotage, Merlot, Cabernet Sauvignon, Cabernet Franc, Petit Verdot
INTERNATIONAL WINE AWARDS 2017
We just released the results of wine tasting contest "International Wine Awards 2017".
They have sampled a total of 2493 wines from more than 35 countries. For the event is presented wines from argentina, australia, austria, brazil, canada, chile, china, france, germany, greece, hungary, italy, malta, mexico...
The contest tasting sessions were conducted in the month of july.
They have obtained a total of 745 medal wines. Representing approximately 30% of the samples submitted.
The objectives of this event are to inform consumers and international wine professionals about the quality of the winning wines, helping the dissemination and communication of the same; provide guidance message to 80% of consumers who expect international references on wine; strengthening the production and development of quality wines and contribute to the dissemination of the culture of wine and reasonable consumption of this beverage with beneficial health qualities.
Congratulations to all the winners click to investigate. See the results on www.internationalwineawards.net
GILBERT & GAILLARD
has been one of France's key wine guides for more than two decades. There have been more than 50 editions published over this time, the most recent editions in French, English, Chinese and Japanese.
Philippe Gaillard and François Gilbert began their joint career in publishing in 1989, as directors of a collection for Presses de la Cité, a major Paris publisher. In 1991 they began publishing their own wine guides and magazines. Today their work has blossomed into an international wine-focused multimedia group with correspondents living in France, Italy, Spain, China and the USA.
Philippe Gaillard was born into a winemaking family in Touraine in the Loire Valley. He studied winemaking and oenology, and later became sales director for major French wine distributor. François Gilbert has a PhD in Geography and is a viticulture specialist. He was a professor for 15 years before devoting himself to his passion for wine.
All wines rated by the Gilbert & Gaillard team are tasted blind, and marked according to the internationally popular 100-point scale. Click to read the original article and for more information about the duo and their publications is available from their website gilbertgaillard.com.
THE NATIONAL WINE CHALLENGE
Top 100 SA Wines, the premier fine-wine-only wine competition in SA, launched the industry's most credible and popular 2018 winning wines results last night.
Congratulations to Alvi's Drift Wine on their major win in the 2018 National Wine Challenge / Top 100. Winning wines gaining Double Platinum / Top 100 status awards, gained scores of between 91 and 96 / 100. Alvi's Drift achieved... Click for more about these awards
CATAVINUM 2018
Congratulations Team Alvi's Drift. What a great result for Catavinum 2018! The following wines all received Gold.
• Alvi's Drift CVC Reserve 2016
• Alvi's Drift Reserve Chardonnay 2016
• Alvi's Drift Reserve Drift Fusion 2014
• Alvi's Drift Albertus Viljoen Bismarck 2016
• Alvi's Drift Muscat de Frontignan 2014
• Alvi's Drift Verreaux Pinotage 2016
• Alvi's Drift Verreaux Pinotage 2015
BREEDEKLOOF / WORCESTER WINEMAKER OF THE YEAR 2017
Winemaker of the Year 2017:
C.P. Conradie from Conradie Penhill Wines
Best overall wine of competition:
Alvi's Drift (Alvi van der Merwe) with a Chenin Blanc (unwooded)
2018 TOP WINE SA CLASSIFICATION
Congratulations to Alvi's Drift Private Estate who has been awarded a 2018 Top Wine SA Classification accolade for their Alvi's Drift Muscat de Frontignan in the category - Top 10 Fortified Dessert Wines. To be eligible for the Classification, wines of the Cape must have earned very good to excellent reviews from at least one of the top judging panels for at least three vintages during the 10-year period under review –( between 2008 and 2017 (inclusive) for the 2018 Classification). The critics include experts appointed for the Decanter World Wine Awards (UK), the International Wine Challenge (UK) and IWSC (UK), Platter's SA Wine Guide (5 Stars and Highly Recommended), the Six Nations Challenge (AU), the Trophy Wine Show (SA), the Veritas Awards (SA) and the Michelangelo awards (SA), – to mention just some of the panels. It is the number of top-rated vintages as well as the type of accolades that determine Top 10 and Top 20 status among South Africa's most fancied wines in terms of the classification.
NEW CAPE WINES
Our heartiest congratulations to Christiaan Groenewald from New Cape Wines who is the 2017 Diners Club Winemaker of the Year for his Eagle's Cliff 2017 Pinotage. Well done on this wonderful moment of success! The Diners Club Winemaker of the Year award is a prestigious wine award which celebrates the skills, talent and dedication of those who make wine. Proudly Worcester Wine & Olive Route
VIVINO'S 2018 WINE STYLE AWARDS
Alvi's Drift Chardonnay Reserve 2015 was named one of the best wines in the world at the 2018 Wine Style Awards. Vivino's 2018 Wine Style Awards recognize the very best and most beloved wines from around the globe. This year's award winning wines were determined by Vivino's 26 million users and the millions of wine ratings they've submitted over the past 12 months. Congratulations!